From corn and eggplant to green beans and peaches this 'What's in Season' feature is a collection of the best fruits, veggies and recipes for the month of July.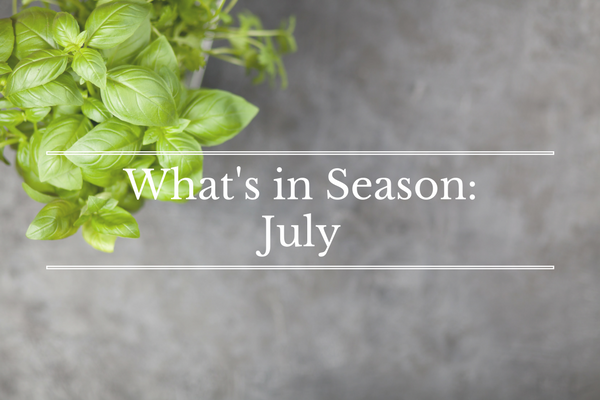 Happy July Friends! We had a nice relaxing holiday weekend to celebrate the 4th and are just now getting back into the swing of our weekly routine. But, let's be honest, the routine of summer is usually just sunshine, rosé, popsicles and a bit of controlled chaos. I always try to slow down a bit in the summer but despite my best intentions, we end up busier than ever and feeling a little frazzled.
Food has actually been my way to slow down and take a moment or two back. I've been scheming up more cocktails and easy appetizer ideas that will make those entertaining commitments stress free and give you back the time to focus on what really matters – friends, family and enjoying your time together. I can't wait to share them with you!  In the meantime, let's take a peek at what's in season this month!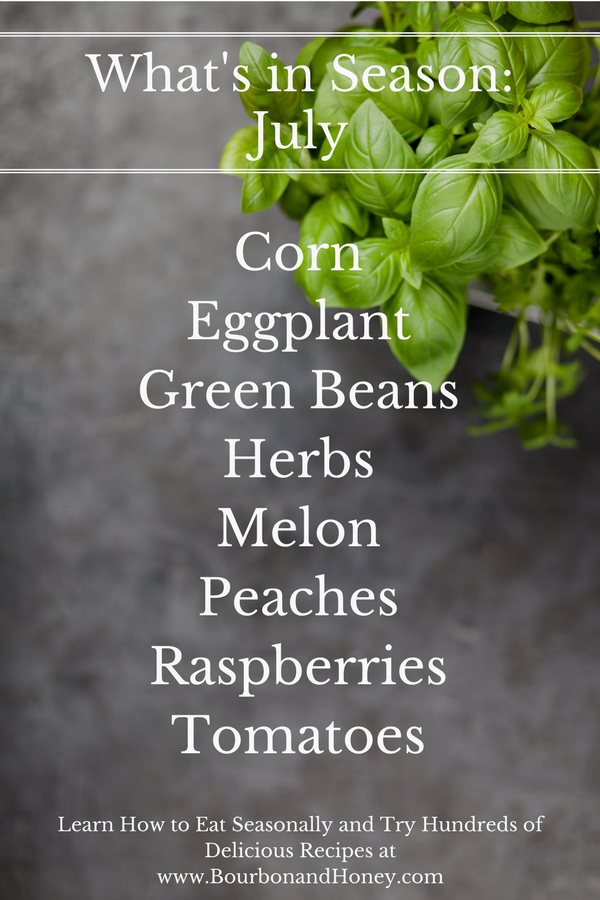 WHAT'S IN SEASON: July
This collection of seasonal fruits, veggies and delicious recipes will inspire you to eat fresh, locally and as seasonally as possible throughout the month of June.
Corn
The super sweet fresh corn is just hitting farmers market stands this month and it's always one of my summer favorites! Grilled in the husk and topped with flavored butter and a sprinkle of salt or cut from the cob and served on a pizza you really can't go wrong. If you've got too many ears of corn on your hands, here are a few tasty go-to's. But, keep in mind when selecting the freshest corn of the bunch, you want plump kernels and a bright green, tender husk.
Eggplant
Not the first summer veggie (oops, it's technically a fruit!) that comes to mind but eggplants are a serious workhorse in the kitchen. With a creamy texture for dips and a rich, meaty flavor when grilled, they're the perfect addition to lots of summery recipes! When selecting the best eggplant, you want a small to medium sized veggie with smooth, shiny skin.
Green Beans
Oh green beans! You get a bad wrap since you're both green and beanie but if the cool kids would just give you a chance, they'd totally understand! Really though, they're so fresh and versatile that you can't go wrong! When selecting green beans, look for crisp, brightly colored beans that snap when bent and have a smooth skin.
Herbs
I started my gardening adventure with a little herb box that sat on the patio right outside our kitchen. They're easy to grow and can add a fresh flavor to all of your dishes. I love adding a slice of lemon or lime and a few fresh cut herbs to my water bottle in the morning to keep things interesting. If you're picking up your own herbs, stick with ones that look clean, unblemished and have a vibrant color.
Melon
I'm not sure what is more summer-y than eating giant slices of watermelon in the sunshine. It reminds me of being a kid but there are so many other ways to enjoy summer melons. When picking our your melons, you want to look for a dull surface and the fruit should be heavier than expected for its size but watch out for any cracks or bruises.
Peaches
Peach pie, peach ice cream, peach tea, peach salsa, peaches by the crate… peach, peaches, peaches! To pick the perfect peach, look for unblemished skin and fruit with a slight firmness with a fresh, sweet aroma.
Raspberries
Raspberries by the handful are a favorite snack around here, I can't stop, won't stop, especially when they're in season! To pick the best raspberries, just look for dry, firm, deeply colored berries.
Tomatoes
Tomatoes are the darling of the summer crop-share baskets. They have so much more flavor when locally grown or plucked from your backyard, still warmed by the sun. The only problem is, you're usually stuck with a bumper crop and dozens of tomatoes are ripe all at the same time. When picking out the perfect tomato, look for slightly firm tomatoes that are vibrant in color. If you're burdened with a bumper crop, check out these recipes to create something tasty to enjoy all that bounty!
What are your favorite recipes for July?


###
Like what you see – or have a question, feedback, or recipe idea to share? Join the convo by commenting below and be sure to subscribe to B&H emails so you don't miss a thing! If you make this, share it! Tag your photo with #BourbonandHoney on Instagram.
Please note that some of the links on this page are affiliate links. I only link to products I trust and recommend. Thank you for supporting B&H.