I'm a big fan of grocery shopping. I can spend hours wandering the aisles looking for interesting ingredients, new products or strange things I didn't even know that I needed.
For the past few years I've made a commitment to pick up a new item every time I go grocery shopping. Something that challenges me as a cook to think out of the box or help me get out of a food rut. Sometimes it's a new marinade, an ethnic spice or some icy treasure from the frozen section. A few weeks ago, I spotted these beautiful baby eggplants from across the produce section. They were so bright and colorful, they looked like they were glowing.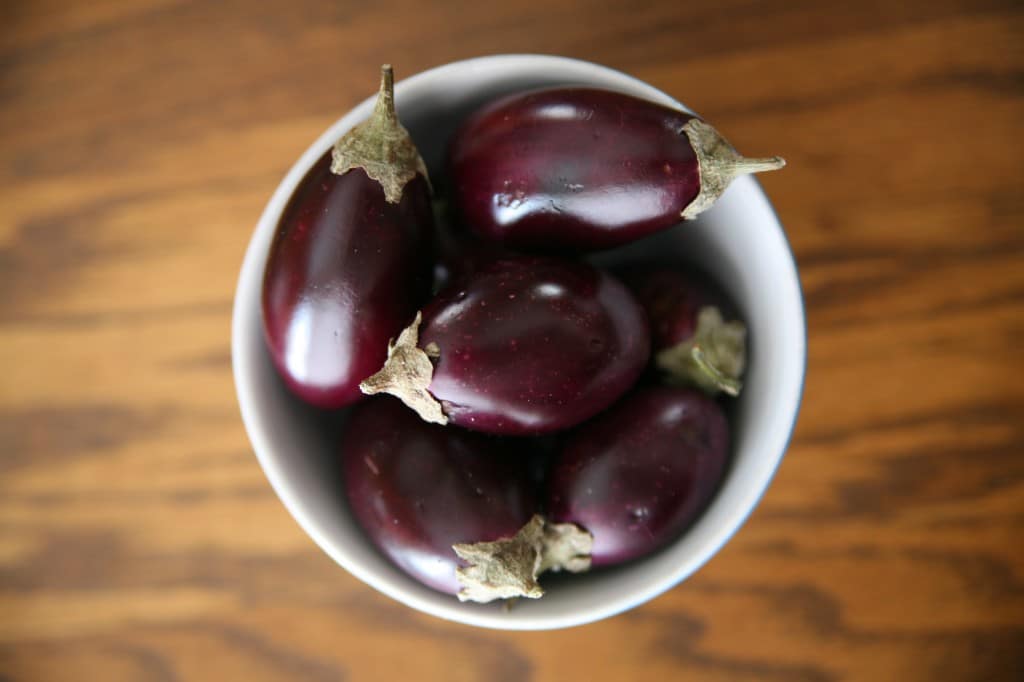 I first thought they would end up as a  baba ganoush but they were pretty tiny and that sounded like a lot of work. Instead, I found a recipe from SteamyKitchen for Roasted Baby Eggplant with Caponata Sauce. They are the perfect shape and size for a tender and flavorful one bite appetizer.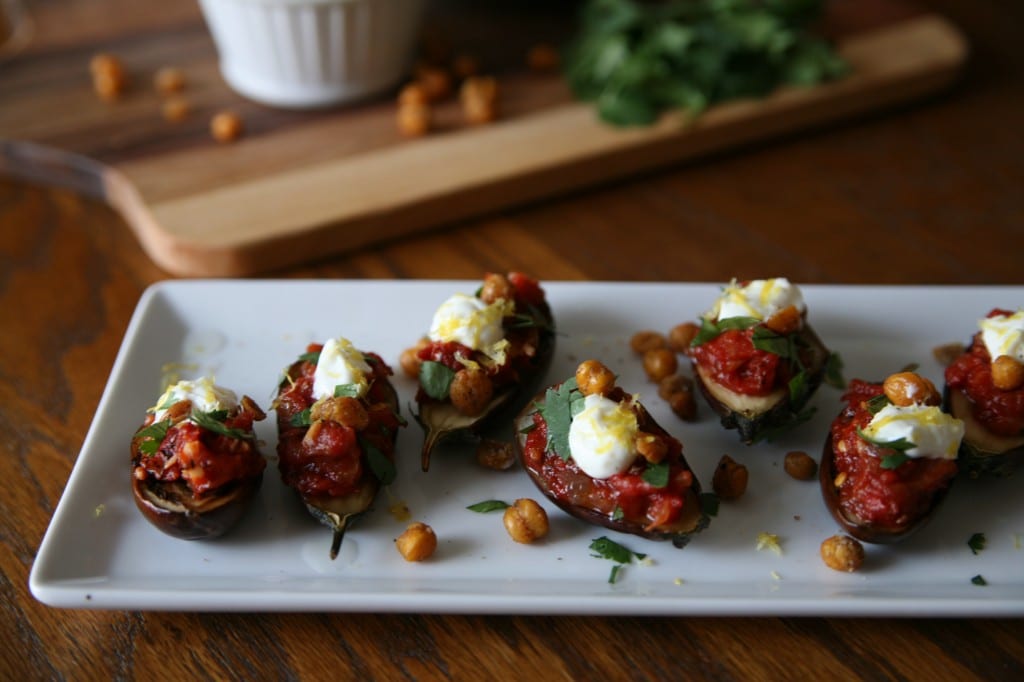 Once roasted, the baby eggplant is topped with a mixture of tomatoes, onion, garlic and harissa. The heat level of purchased harissa varies greatly by brand so be sure to start with just a little bit and add more to taste. It's topped off with a dollop of plain Greek yogurt, cilantro and lemon zest. This was also the perfect way to use up some of the Garam Masala Roasted Chickpeas that I had left over. 

Roasted Baby Eggplant with Harissa
Prep Time: 30 minutes
Start to Finish: 45 minutes
Eggplant
8 baby eggplant (about 8 oz)
2 tablespoons olive oil, divided
1/2 small onion, chopped (about 1/4 cup)
1 clove garlic, finely chopped
1 can (14.5 oz) fire-roasted tomatoes (I used Muir Glen)
2 teaspoons prepared Harissa sauce
Pinch of Sugar
Toppers, if desired
Plain Greek yogurt
Fresh Cilantro
Lemon Zest
Garam Masala Roasted Chickpeas
Heat oven to 400ºF. Slice eggplants in half lengthwise, drizzle with 1 tablespoon of the olive oil. Place cut side up on a baking pan lined with parchment paper. Bake 8 to 10 minutes or until tender. Turn broiler on High for about 2 minutes (watch it closely!) or until caramelized and browned on top.
Meanwhile, heat remaining 1 tablespoon of olive oil in a medium skillet over medium heat. Add onion and garlic and cook, stirring frequently for 6 to 8 minutes or until browned and softened. Stir in tomatoes, harissa, and sugar. Reduce heat to medium-low and simmer, uncovered for 12 to 15 minutes or until thickened.
To serve, place eggplant on serving platter. Spoon tomato mixture over eggplant. Top with cilantro, yogurt, lemon zest and chickpeas, if desired.
8 Servings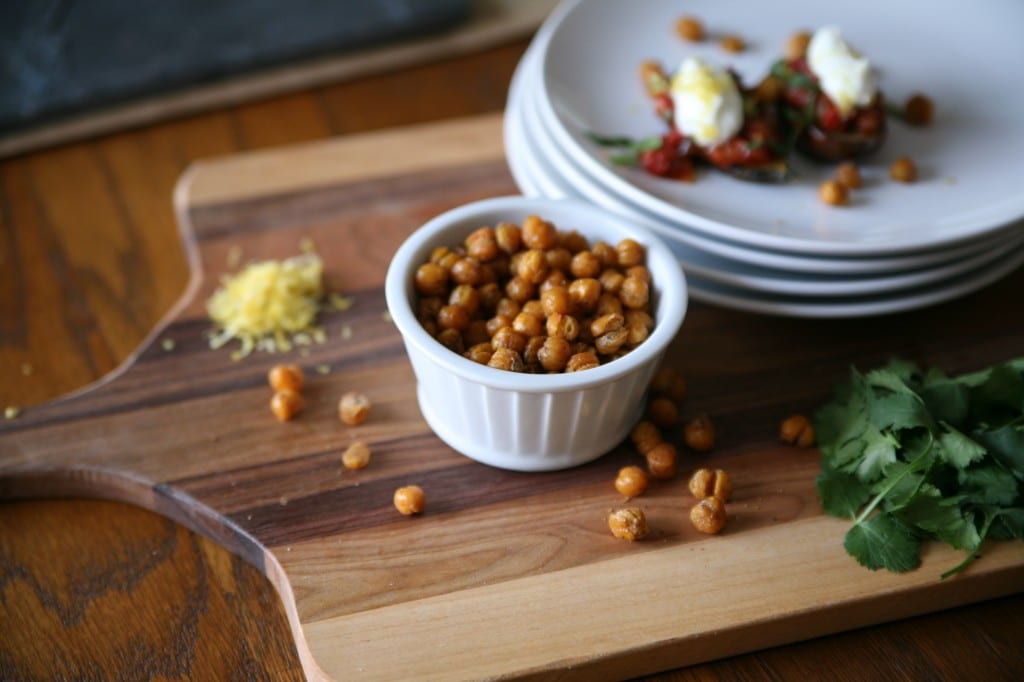 A few more baby eggplant recipes to try:
Roasted Baby Eggplant with Caponata Sauce from Steamy Kitchen
Roasted Baby Eggplant from Real Simple
Baby Eggplants with Oregano and Red Onions from Cooking Channel