This delicious Coconut Peach Ice Cream has all the fresh flavor of ripe summer peaches without an ice cream maker.
My favorite dessert seems to be ever-changing, but it almost always starts with fresh fruit. I love indulgent flavors and the fruit can balance things like chocolate, cheesecake or even ice cream with a bright, fresh flavor.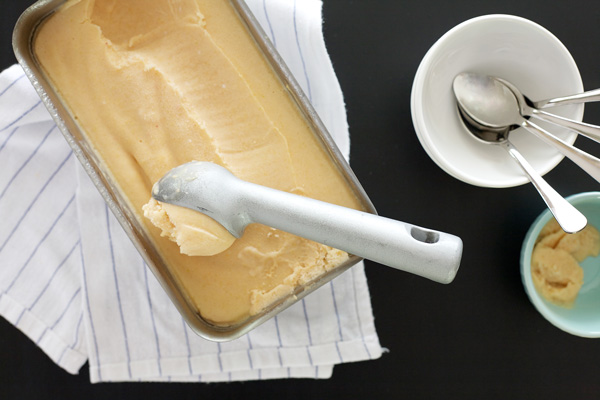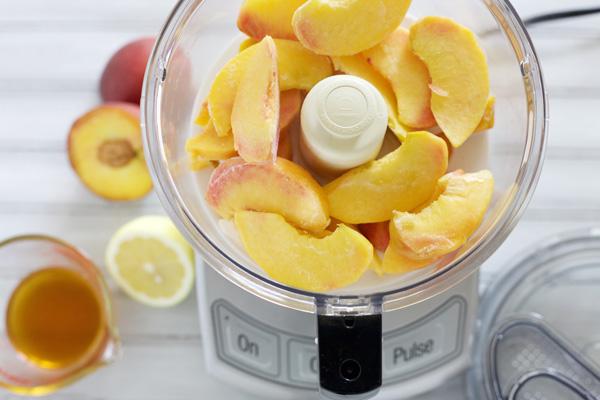 This ice cream is quick and easy to make, you don't even need an ice cream maker, just a food processor or a blender will do the trick. The coconut milk adds some fat to give it a super smooth, creamy texture without all the dairy and the sweetness of the fruit is perfectly balanced with a squeeze of lemon. Don't like peaches? Swap in plums, raspberries, strawberries or any other fresh or frozen fruit for a quick sweet treat.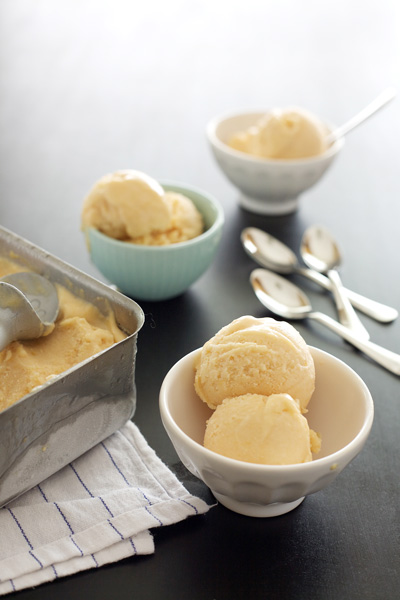 No Churn Coconut Peach Ice Cream
This delicious coconut peach ice cream has all the fresh flavor of ripe summer peaches without an ice cream maker.
Ingredients
4 large, ripe peaches (about 2 pounds) or 2 bags (16 ounces each) frozen sliced peaches
1 can (13 or 14 ounces) full fat coconut milk (I used Thai Kitchen)
1/3 cup agave syrup (or honey)
1 tablespoon fresh lemon juice
1 teaspoon vanilla extract
Pinch of salt
Instructions
Peel and slice peaches, then freeze until firm, about 1 hour. If using purchased frozen, you can obviously skip this step.
In the bowl of a food processor, blend together the coconut milk, agave syrup, lemon juice, vanilla and salt with the frozen peaches until creamy and smooth.
Serve immediately soft-serve-style, or freeze covered until frozen solid, about 6 hours. To serve, allow ice cream to stand at room temperature for about 15 minutes before serving to be scoop-able.
Nutrition Information
Serving size:
1/4 cup
Calories:
80
Fat:
5g
Saturated fat:
4g
Unsaturated fat:
0g
Carbohydrates:
10g
Sugar:
9g
Sodium:
7mg
Fiber:
1g
Protein:
1g
Cholesterol:
0mg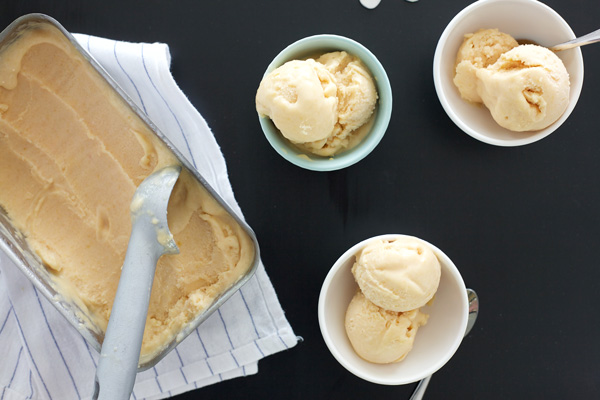 What's your favorite summer ice cream flavor?
You scream, I scream, here's more ice cream…
Cinnamon Snickerdoodle Ice Cream from Two Peas and Their Pod
No Churn Ice Cream 5 Ways from Have Baked Harvest
Blackberry Chip Ice Cream from How Sweet It Is
###
Like what you see – or have a question, feedback, or recipe idea to share? Join the convo by commenting below and be sure to subscribe to B&H emails so you don't miss a thing! If you make this, share it! Tag your photo with #BourbonandHoney on Instagram.