Fresh, flavorful and packed with protein, this Summer Chickpea and Lentil Salad is a great way to enjoy the bounty of summer veggies!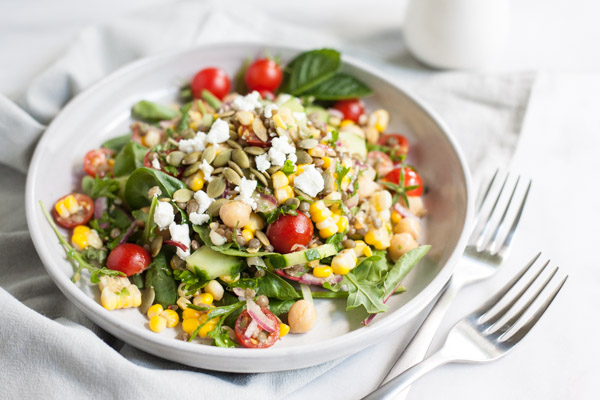 Depending on the day, I'm waffling back and forth between wanting summer to last forever and the excitement of fall and the cool crisp air. Right now, I'm all-in on enjoying summer year-round! My small backyard garden is growing like crazy. Yet, it's also getting taken over by a rogue squash plant that is creeping across my backyard and I'm not even sure what it is anymore. Yeah, it's a problem. Besides the wild squash, I'm up to my eye balls in tomatoes, zucchini, cucumbers and herbs and it's pretty awesome.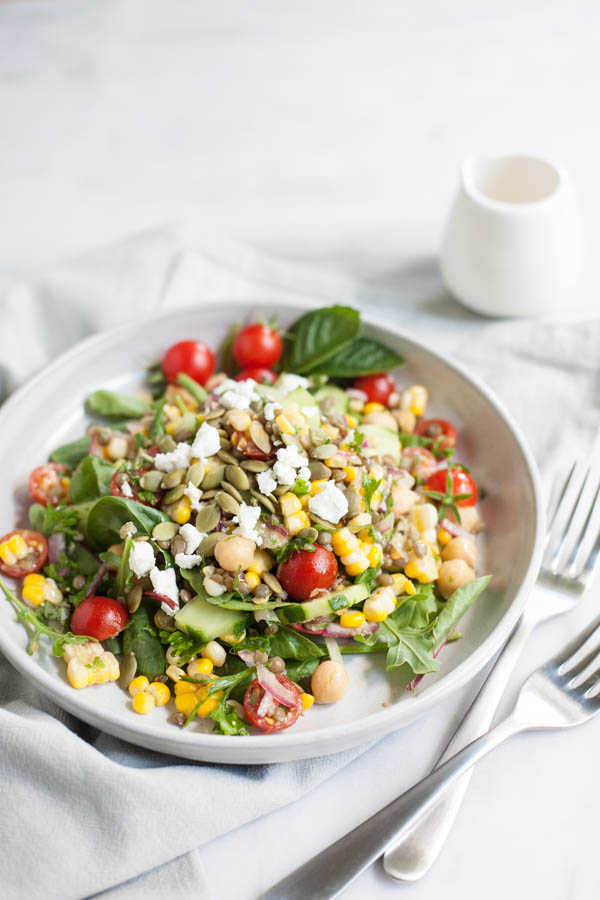 We eat a ton of veggies so it's not that hard to keep up but I'm always looking for new (and delicious) ways to keep them interesting or store them up for later. I'm too impatient for the full-blown canning process so I tend to stick with quick pickles, fermented veggies, oven roasting and cooking the heck out of things in my slow cooker to make a flavorful sauce. Works like a charm and we can enjoy our fresh summer produce long into the winter!
This salad is one that we make some variation of at least once a week. Chickpeas paired with lentils, a light vinaigrette and all the fresh seasonal veggies you can get your hands on, it tastes just like summer. It's also a great make-ahead work week lunch! Prep and toss everything ahead of time but stir in some of the more tender ingredients, like the avocado and arugula just before serving.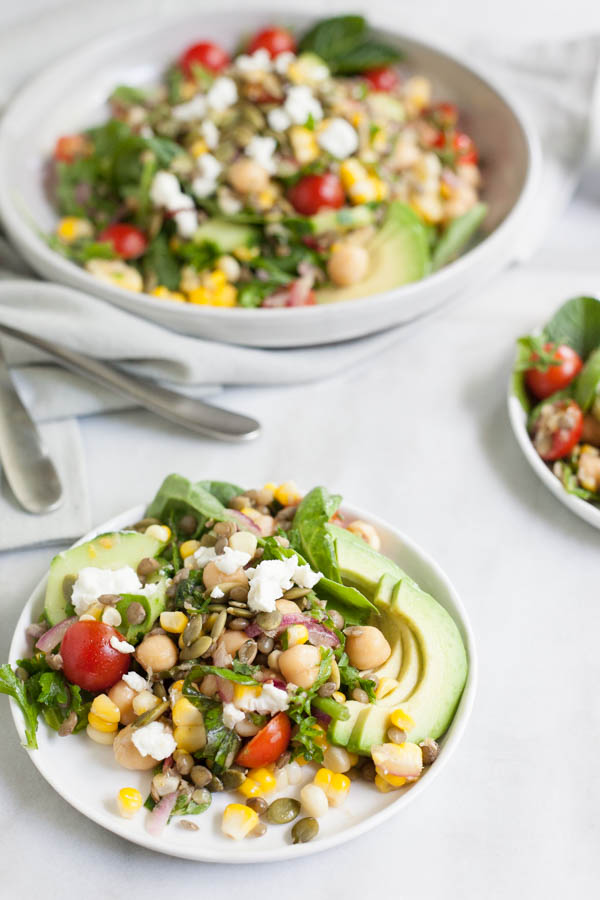 Normally I don't add raw onion to a fresh salad because of the bite, but with a little trick you can keep the flavor but remove that harshness. Simply soak the sliced onions in a small bowl of cold water for about 10 minutes, rinse them well and ta-da no dragon breath after lunch.
Print
Summer Chickpea and Lentil Salad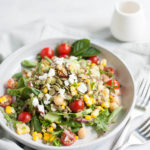 Fresh, flavorful and packed with protein, this Summer Chickpea and Lentil Salad is a great way to enjoy the bounty of summer veggies!
Author:

Kristen Olson

Prep Time:

15 mins

Cook Time:

15 mins

Total Time:

30 minutes

Yield:

4 Servings
Ingredients
Chickpea and Lentil Salad
1 cup uncooked french lentils (Le Puy lentils)
4 cups arugula
1 can (15 ounces) chickpeas, rinsed and drained
2 cups cooked corn (fresh or frozen)
1 avocado, pitted and sliced
1/4 cup thinly sliced red onion
1 medium cucumber, peeled, halved and sliced
1 cup cherry tomatoes, halved
1/4 cup chopped fresh herbs (flat-leaf parsley, cilantro, basil, mint)
1/4 cup pumpkin seeds (pepitas)
1/4 cup crumbled feta
Lemon Vinaigrette
3 tablespoons olive oil
2 tablespoons fresh lemon juice
2 teaspoons honey or maple syrup
1 teaspoon coarse mustard
Pinch of salt, pepper, cumin and cayenne
Instructions
Cook lentils according to package directions until al dente; rinse in cold water to stop cooking. Drain well and cool completely.
Meanwhile, prep the remaining salad ingredients in a large bowl.
In a small bowl, whisk together all vinaigrette ingredients until smooth.
Gently toss the lentils and vinaigrette into the salad bowl. Garnish with extra pumpkin seeds and feta if desired.
Nutrition
Serving Size:

1 Serving

Calories:

502

Sugar:

12g

Sodium:

391mg

Fat:

20g

Saturated Fat:

6g

Unsaturated Fat:

8g

Carbohydrates:

52g

Fiber:

16g

Protein:

21g

Cholesterol:

8mg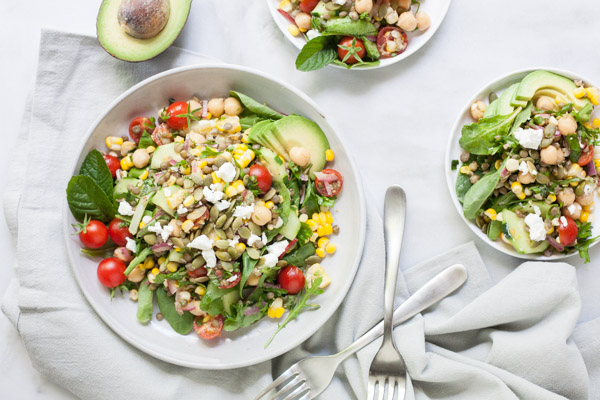 What are you making with your summer bounty?
Need another salad? Try one of these…
Summer Farro Salad with Zucchini, Onions, and Mozzarella from Inspiralized
Vegan Grilled Corn Plum Avocado Grain Salad from Shared Appetite
Summer Grain Bowls from How Sweet It Is
Or, try my Quinoa Summer Salad…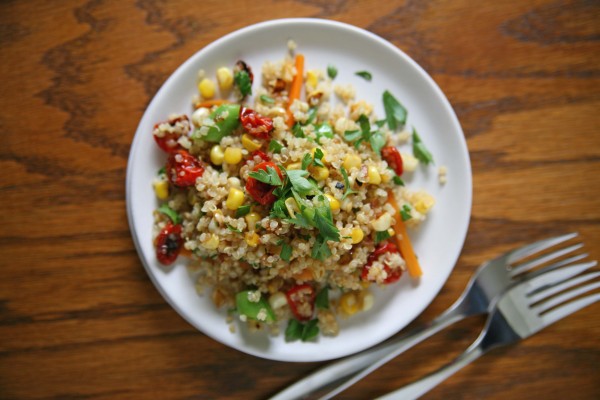 ###
Like what you see – or have a question, feedback, or recipe idea to share? Join the convo by commenting below and be sure to subscribe to B&H emails so you don't miss a thing! If you make this, share it! Tag your photo with #BourbonandHoney on Instagram.