Holy tomatoes batman! I'm drowning in them!
If you crazy kids follow me on Instagram, you know by now that I have a ever-growing pile of backyard tomatoes. Luckily, I've got a few ah-mazing recipes up my sleeve that are great for taking care of all that pretty plump produce.
These slow roasted tomatoes are lightly seasoned but packed full of concentrated tomato-y flavor. You can use these tasty little gems in anything and everything from pasta, soups, risotto or smashed on toast with parmesan cheese.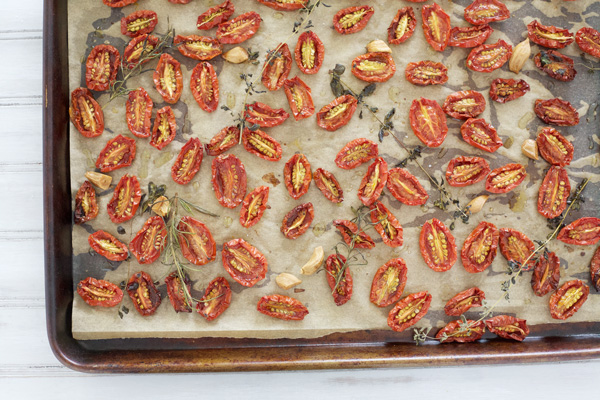 Go easy on the salt and pepper as the flavors will intensify once they're roasted. These fresh tasting tomatoes will let you cook with the flavor of summer, well into the winter.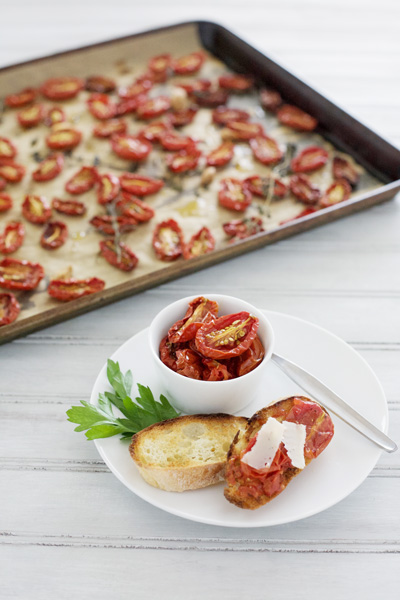 Print
Slow-Roasted Tomatoes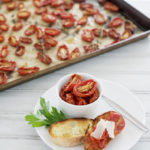 These roasted tomatoes are lightly seasoned but packed full of fresh, tomato-y flavor for the perfect snack, appetizer or pasta stir in.
Author:

Kristen Olson

Prep Time:

15 mins

Cook Time:

3 hours

Total Time:

3 hours 15 minutes

Yield:

About 3 cups
Ingredients
3 pounds plum tomatoes, halved
2 tablespoons olive oil
6 cloves garlic, peeled and halved
6 sprigs fresh oregano, thyme or rosemary
Pinch of salt and pepper
Instructions
Heat the oven to 250°F. Arrange the tomatoes, cut sides up, between 2 large parchment lined baking sheets.
Add the garlic and herbs. Drizzle with olive oil, and sprinkle lightly with salt and pepper. Roast 2 1/2 to 3 hours or until the tomatoes are caramelized and browned on edges but are still a bit tender.
Roasted tomatoes keep in an airtight container, chilled, 2 weeks. Bring to room temperature before using in pasta or spread on crostini for a quick appetizer.
Nutrition
Serving Size:

2 Tablespoons

Calories:

21

Sugar:

1g

Sodium:

3mg

Fat:

1g

Saturated Fat:

0g

Unsaturated Fat:

1g

Carbohydrates:

2g

Fiber:

1g

Protein:

1g

Cholesterol:

0mg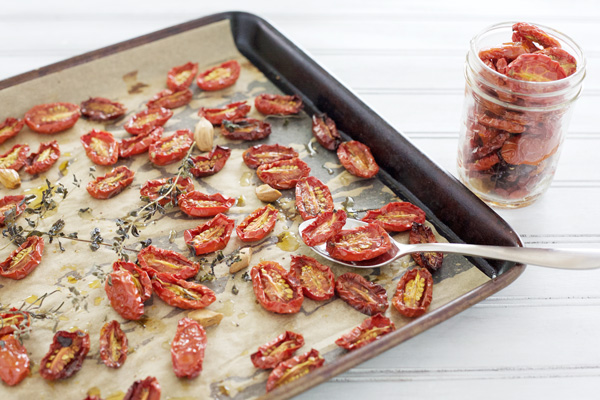 #TomatoesForDays!
Fresh Tomato Salsa from Simply Recipes
Caprese Salad Crostini from Bourbon and Honey
Roasted Tomato Sauce with Garlic from The Kitchn