This Crunchy Chile Sauce is savory, spicy and totally delicious. Spoon it on everything from rice bowls to scrambled eggs, roasted veggies or nachos.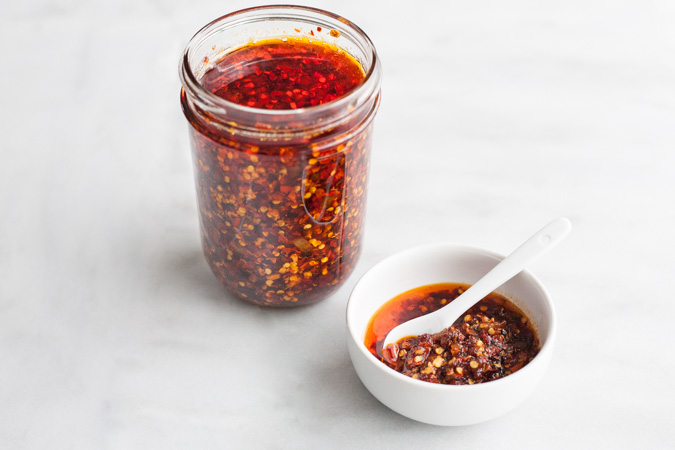 Hot sauce doesn't last long in my house. We buy Sambal Oelek by the 8.5 pound jug. Yep, you read that right… 8.5 pound jug. I'll be the first to tell you, we might have a bit of a problem.
But, hot sauce can't just be spicy; I want it to have some flavor. It has to have a smoky bite, a sweet-heat, a hint of garlic or some character to it that makes it interesting. This crunchy chile sauce is so much more than just a hot sauce!
With little crispy bits of toasty fried onion and garlic, savory miso and soy sauce and a pinch of sugar thrown in to balance it all out, this hot sauce is down right addicting!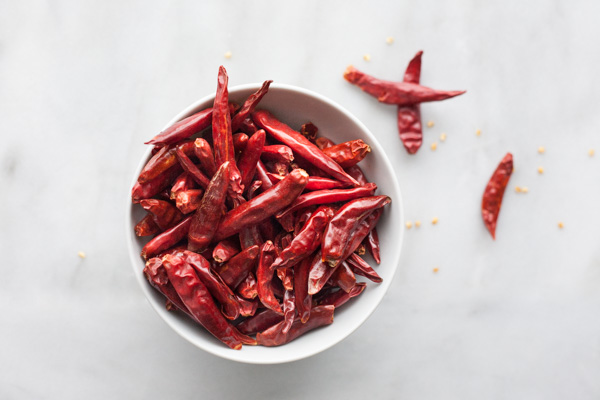 Based on your heat tolerance, use whatever dried chiles you prefer. I started with fiery Chinese red peppers that are on the spicy side but you can swap half (or all) of them for the much milder sweet-heat of the Guajillo chile.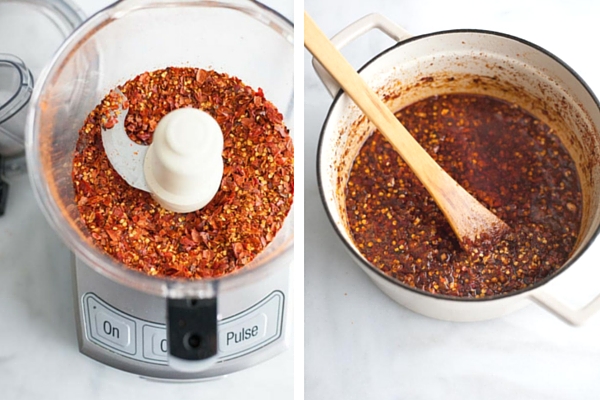 Spoon a bit on scrambled eggs, stir some into your guacamole, dip chips in it or eat it by the spoonful. This saucy mix will keep in the fridge for about two months, but good luck keeping it around that long!
Print
Crunchy Chile Sauce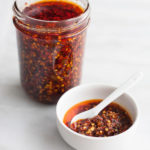 This hot sauce is savory, spicy and totally delicious. Spoon it on everything from rice bowls to scrambled eggs, roasted veggies or nachos.
Author:
Prep Time:

15 mins

Cook Time:

15 mins

Total Time:

30 minutes

Yield:

About 2 1/2 cups
Ingredients
1 cup canola oil (or other neutral flavored oil)
1/2 cup sesame oil
1 small onion, evenly minced
5 cloves garlic, evenly minced
3 cups (about 4 ounces) Chinese dried red chile peppers (or Japones or Guajillo peppers), stems removed
3 tablespoons miso paste
2 tablespoons soy sauce (or gluten free tamari)
1 tablespoon sugar
1 1/2 teaspoons coarse Kosher salt
1 teaspoon Sichuan peppercorns, ground finely
Instructions
In a 3-quart heavy bottom saucepan, heat the canola oil and sesame oil to 375°F. Carefully add the onions and garlic and cook, stirring frequently 10 to 12 minutes, or until the onions and garlic are golden brown. Remove the saucepan from the heat; set aside.
In a large skillet over medium heat, add the dried chiles and dry roast them, stirring occasionally until browned and fragrant. Add the toasted dried chiles to the bowl of a food processor and pulse until chopped into small pieces. Carefully (don't take a deep breath as the chile dust will make you cough!) add the chopped dried chiles.
In a small bowl, whisk together the miso paste, soy sauce, sugar, salt and peppercorns until smooth. Stir into the oil and chile mixture; cool completely.
Pour the mixture into a resealable jar and store in the fridge for 1 week to let the flavors blend. The sauce will keep for about 2 months in the fridge.
Notes
Can't handle the heat? Swap in mild Guajillo peppers for the spicy red chile peppers.
Nutrition
Serving Size:

1 teaspoon

Calories:

16

Sugar:

0g

Sodium:

46mg

Fat:

1g

Saturated Fat:

0g

Unsaturated Fat:

0g

Carbohydrates:

0mg

Fiber:

0g

Protein:

0g

Cholesterol:

0mg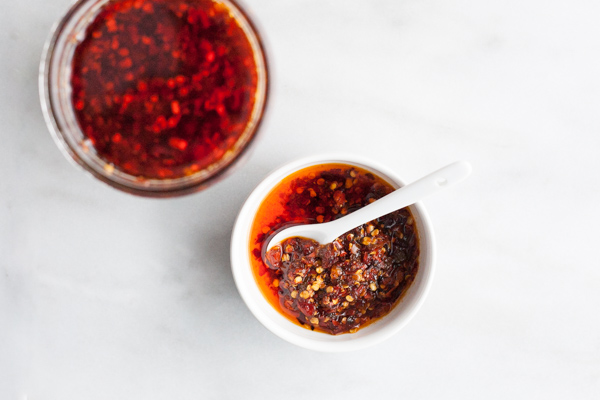 Do you have a favorite hot sauce that you put on everything?
Not for the faint of heart, here are a few more spicy sauces…
Homemade Sriracha Hot Sauce from Nourishing Meals
Peri Peri Sauce from Chili Pepper Madness
Fiery Habanero Hot Sauce from A Virtual Vegan
Or, try my recipe for fermented hot sauce…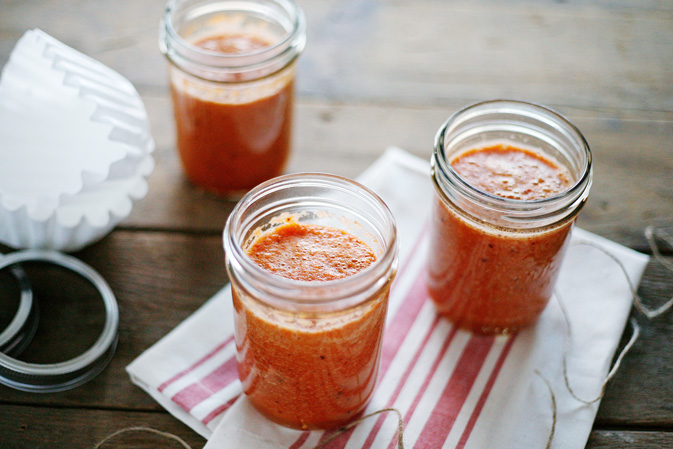 ###
Like what you see – or have a question, feedback, or recipe idea to share? Join the convo by commenting below and be sure to subscribe to B&H emails so you don't miss a thing! If you make this, share it! Tag your photo with #BourbonandHoney on Instagram.
Please note that some of the links on this page are affiliate links. I only link to products I trust and recommend. Thank you for your support.