Making meals for an entire week can be daunting but with a little planning and a few hours, your Sunday Meal Prep can easily keep you going all week long.
I get a lot of questions asking the best way to prep food for the entire week without spending every waking moment in the kitchen. It sounds overwhelming, but it's totally doable with a little planning and prepping on Sunday.
Working a full time job and having a busy weeknight schedule, cooking during the week has to be fast or it will quickly be replaced by take out, a bowl of popcorn and wine or simple avocado toast. The best part about prepping and packing meals is that they help to make healthy choices a no-brainer, save money and taste great!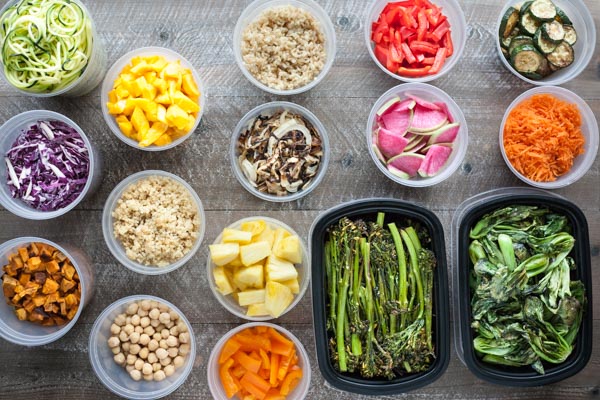 When tackling a weeks worth of meals, I like to prep each of the individual pieces and just throw it all together when I'm ready to eat. This is great if you have any food allergies or odd preferences in the house and it also prevents boredom.
There are 5 essential things that you'll want to focus on… protein, grains, veggies, greens and fruit.
Protein
I tend to make a lot of chicken, it's easy and can be served with everything! Most of the time I broil or roast it, but a rotisserie chicken is worth its weight in gold and is always a great option in a pinch. In addition to chicken, I cook up a few hard boiled eggs and roast a batch of tofu. Stick to proteins that can hold more than a day or two in the fridge (fish is not the best option to make ahead) and can be served cold, room temperature or hot to give you more options when it comes to meal time.
Grain and Beans
When it comes to stretching a meal, quinoa and brown rice are at the top of my list. Save the stress and cook it all in a rice cooker. Once cooked, serve it with the chicken, fresh or roasted vegetables or stir it into your morning oatmeal for some added texture. As for the beans (and legumes), chickpeas or black beans are awesome on salads, stirred into quinoa or mixed with roasted veggies.
Vegetable
Fresh or roasted, vegetables are my favorite thing to have on hand during the week. When roasting, I crank up the heat to give it some nice browning and tend to stick to simply tossing them in olive oil, salt and pepper and let the flavor of the vegetable come through. It's all about versatility so you can mix and match to your hearts content.
Greens
When planning the greens for salads, or stir ins with pasta or sides, I go with a heartier green that will last or even get more tender and delicious when tossed with dressing ahead of time. Baby kale, shaved brussels sprouts shredded red or green cabbage are all great options.
Fruit
I love snacking on a bowl of yogurt with fruit for breakfast or between meals. My favorite is plain greek yogurt topped with strawberries and mango. Add a sprinkle of granola, chia seeds or a dusting of cinnamon and you're good to go! You can also throw the fruit on a salad or eat it by the bowlful.
Now, what to do with all that food? Label the containers with the date and what goodies are tucked inside then stack them up in the fridge.
When you're ready to eat, throw together a giant salad, a hearty rice bowl or toss it with pasta and get back out there!
Do you prep meals on Sunday? What do you make? Share your ideas in the comments!
###
Like what you see – or have a question, feedback, or recipe idea to share? Join the convo by commenting below and be sure to subscribe to B&H emails so you don't miss a thing! If you make this, share it! Tag your photo with #BourbonandHoney on Instagram.