In the last year or so, cauliflower has made a serious come back! I remember eating it steamed as a kid. It was pretty mushy but my mom always let me cover it with a pile of melted cheese. Melted cheese can make anything delicious!
These days, I prefer cauliflower served as a steak, roasted whole or flavored with curry. And this lovely fresh cauliflower and quinoa salad is a great weeknight dish and is perfect for picnics.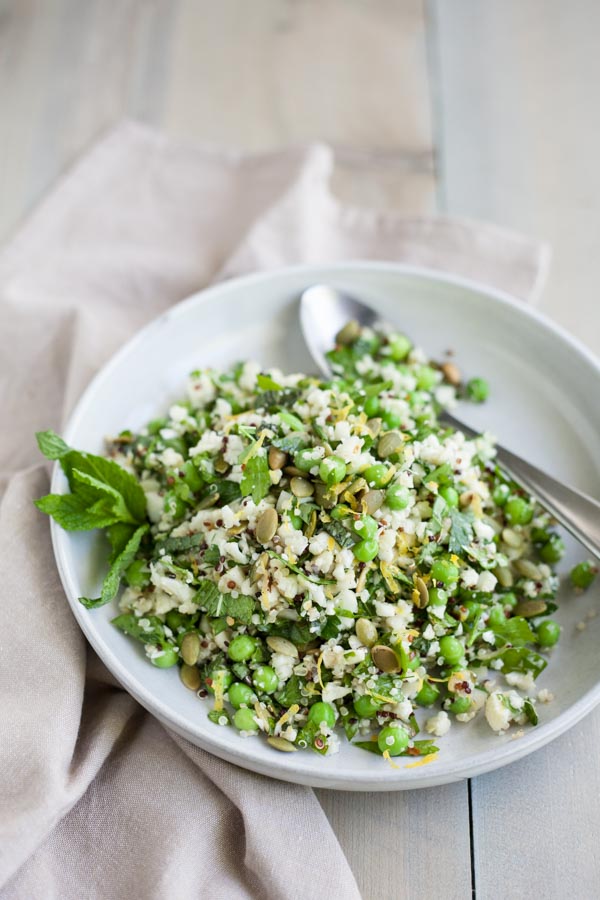 Hungry for a hearty meal? Serve this salad over mixed greens topped with grilled chicken, shrimp or Portobello mushrooms.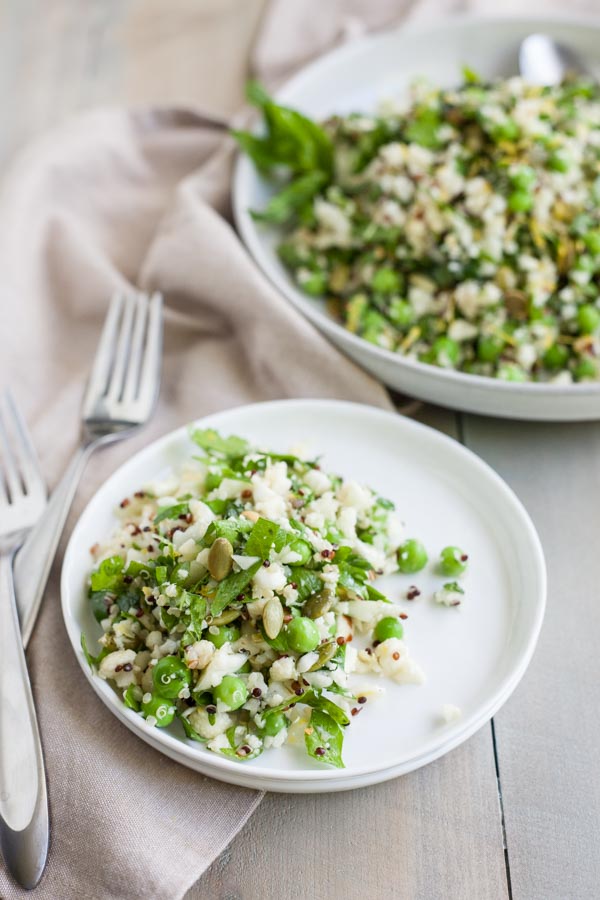 Print
Quinoa Cauliflower Tabbouleh Salad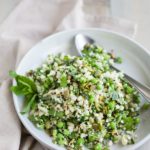 A tasty fresh spring dish of cauliflower and quinoa paired with herbs, fresh peas, lemon zest and crunchy toasted pepitas.
Author:

Kristen Olson

Prep Time:

15 mins

Cook Time:

15 mins

Total Time:

30 minutes

Yield:

6 Servings
Ingredients
1/2 cup uncooked quinoa
1 head cauliflower
2 cups fresh peas (or frozen, thawed)
1 bunch parsley, chopped
3 sprigs fresh mint, chopped
1/2 bunch basil, chopped
Zest from 2 lemons
3 tablespoons fresh lemon juice
3 tablespoons extra virgin olive oil
1/2 teaspoon coarse Kosher salt
1/4 teaspoon fresh pepper
1/4 teaspoon red pepper flakes
1/2 cup pepitas (pumpkin seeds), toasted
Instructions
Cook quinoa according to package directions; cool completely.
Meanwhile, trim cauliflower, cut into pieces and add in batches to the bowl of a food processor. Pulse until coarse pieces and repeat with remaining cauliflower.
Toss all ingredients together in a large bowl. Taste and adjust seasoning as desired. Refrigerate at least 2 hours or up to 3 days.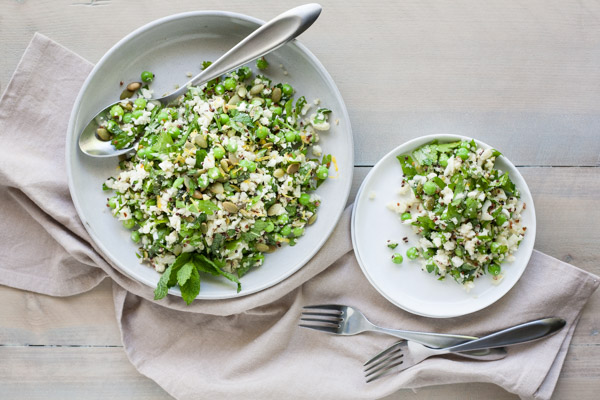 What's your favorite cauliflower dish?
In the mood for some more cauliflower? Check these out…
Caramelized Cauliflower Salad from Naturally Ella
Bar Tartine Cauliflower Salad from 101 Cookbooks
Cauliflower Rice Burrito Bowl from Love and Lemons
Roasted Cauliflower and Za'atar Salad from Green Kitchen Stories
###
Like what you see – or have a question, feedback, or recipe idea to share? Join the convo by commenting below and be sure to subscribe to B&H emails so you don't miss a thing! If you make this, share it! Tag your photo with #BourbonandHoney on Instagram.