These Korean inspired Kimchi Stuffed Baked Sweet Potatoes are topped with kimchi, edamame, greens and a gochujang aioli for a quick dinner recipe!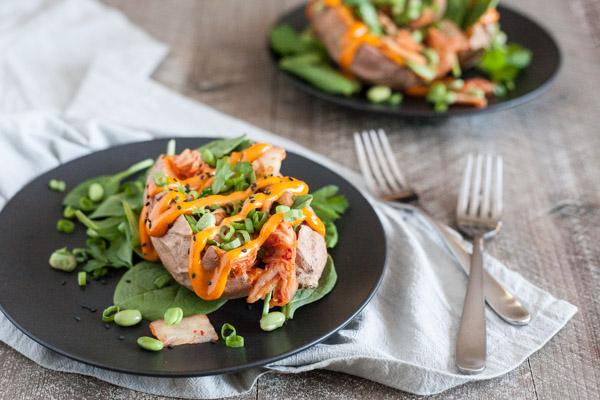 Too busy (or sometimes lazy like me?) to make a lunch to bring to work? Don't worry, I've totally been there! Life gets busy and the meals we eat at home seem most important but when we rush out the door for work, it's so easy to say 'bah, I'll just run out and grab something for lunch." But, most of the time when I say that I grab something, it's not as interesting or as healthy I'd like and it's usually pretty pricy. So, let's make lunch easier shall we?
Sweet potatoes are the key in my house to quick and pain-free brown bag lunches. Hold up, does anyone actually still use a brown bag for their lunch? Probably not, but you know what I mean. Whatever bag, box or backpack you carry your lunch to work or school in, it's about to get a lot more interesting!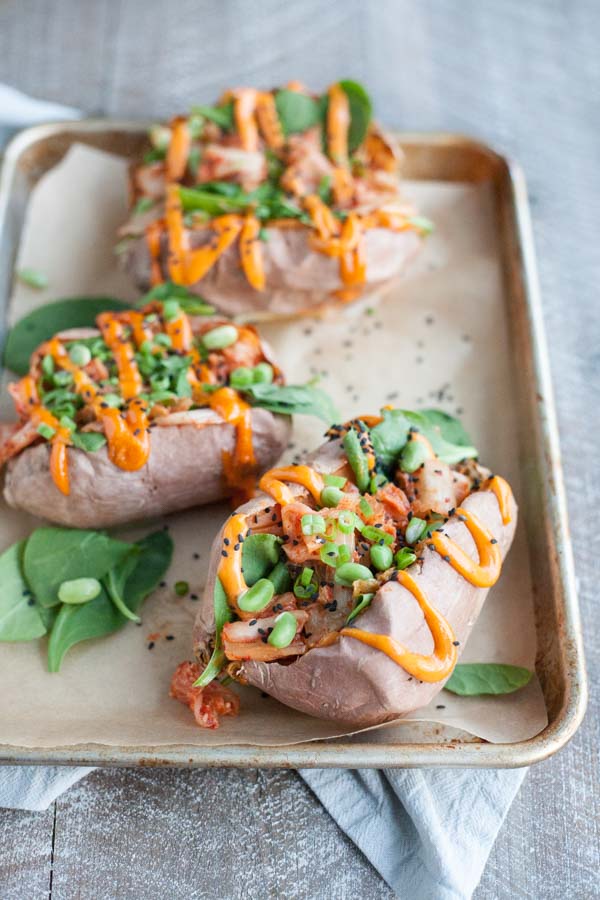 On Sunday I usually have a busy cooking day for the week, you don't have to do it on Sunday just try to squeeze in a few hours to do some of the basics at some point during the week that works for you. I usually throw a grain in the rice cooker, a batch of chicken stock in the slow cooker and a variety of veggies in the oven to roast. Then I can mix and match during the week without having to stress. Baked sweet potatoes are always on that list! They're filling, can be topped with sweet or savory goodies and are super healthy.
Your topping options can really be anything you like but this one is packed with flavor! Kimchi can be found at most grocery stores, it'll be in the refrigerated section but the gochujang (Korean red pepper paste… aka deliciousness!) might be a little harder to find. A large grocery store will have it in the ethnic section but you might need a run to a specialty store to find it or, don't even get out of your jammies and scoop it up on Amazon like the rest of us practical people! Don't worry, sriracha will do in a pinch too!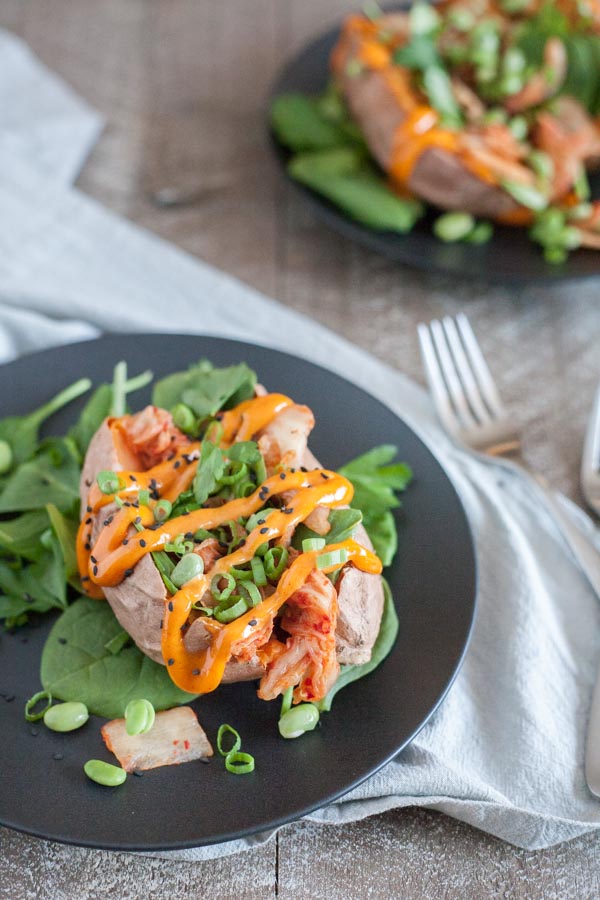 Happy (and healthy!) lunching!
Print
Kimchi Stuffed Baked Sweet Potatoes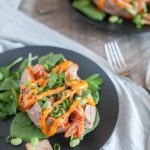 These simple Spicy Kimchi Stuffed Baked Sweet Potatoes are a fun and flavorful veggie packed dinner or desk lunch recipe!
Author:

Kristen Olson

Prep Time:

15 mins

Cook Time:

45 mins

Total Time:

1 hour

Yield:

4 Servings
Ingredients
Baked Sweet Potatoes
4 medium sweet potatoes
2 cups baby spinach
1/2 chopped spicy kimchi, drained
1 cup steamed shelled edamame
1/4 cup thinly sliced green onions
2 tablespoons fresh chopped cilantro or parsley
Black sesame seeds
Gochujang Aioli
1/2 cup mayonnaise
1 garlic clove, finely grated
1 tablespoon Gochujang (Korean chile paste)
Instructions
Heat oven to 400°F. Scrub the sweet potatoes and pierce each one several times with the tines of a fork. Place sweet potatoes on a parchment paper lined, rimmed baking sheet. Bake until fork tender all the way through, about 45 minutes. Let stand about 10 minutes or until cool enough to handle.
Meanwhile, in a small bowl, stir together the mayonnaise, garlic and Gochujang until smooth; set aside.
To serve, split the sweet potatoes lengthwise, top with spinach, edamame, kimchi, green onions cilantro, a drizzle of gochujang aioli and a sprinkle of sesame seeds. Serve warm or at room temperature.
Nutrition
Serving Size:

1 Serving

Calories:

379

Sugar:

8g

Sodium:

378mg

Fat:

18g

Saturated Fat:

3g

Unsaturated Fat:

8g

Carbohydrates:

35g

Fiber:

8g

Protein:

9g

Cholesterol:

10mg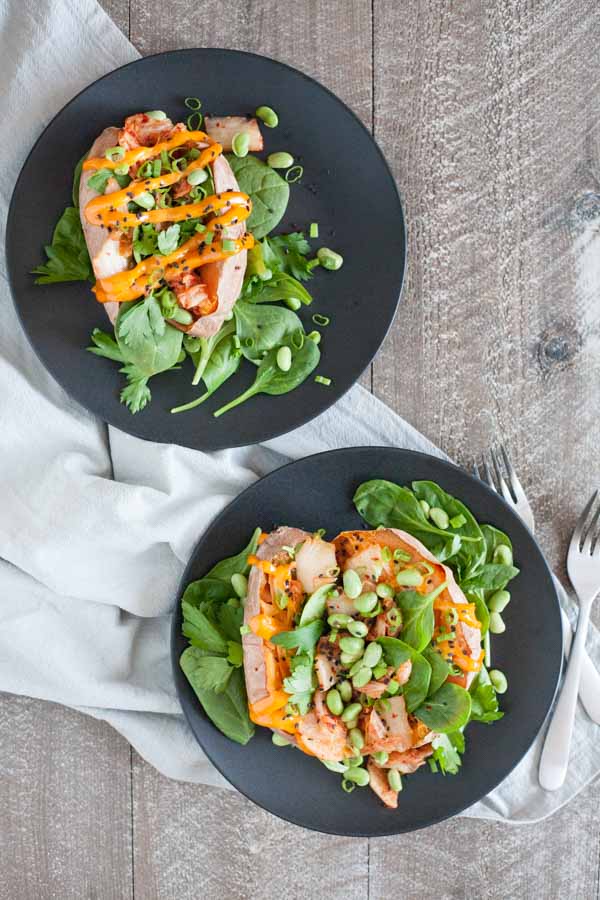 Do you have a favorite sweet potato topper?
Looking for another sweet potato idea? Try one of these…
Baked Sweet Potato Chips from Minimalist Baker
Sweet Potato and Black Bean Tacos with Avocado-Pepita Dip from Cookie and Kate
Sweet Potato Mac and Cheese with Spinach from Naturally Ella
Or, check out my Greek Baked Sweet Potatoes…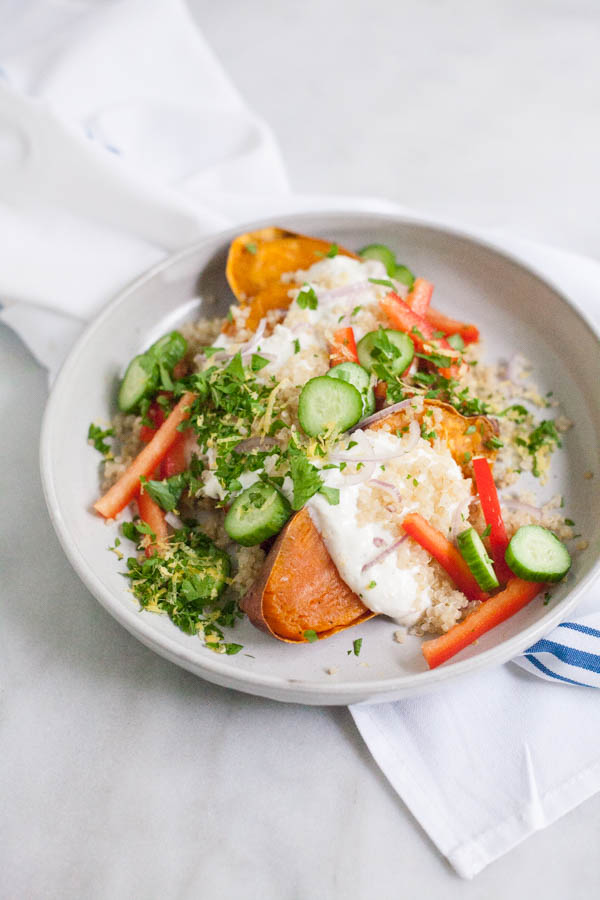 ###
Like what you see – or have a question, feedback, or recipe idea to share? Join the convo by commenting below and be sure to subscribe to B&H emails so you don't miss a thing! If you make this, share it! Tag your photo with #BourbonandHoney on Instagram.


Please note that some of the links on this page are affiliate links. I only link to products I trust and recommend. Thank you for your support.