This time of year, instead of reaching for another helping of cookies, hunk of peanut brittle or slice of cheesecake, I've been making batch after batch of chia pudding. It still feels indulgent with the creamy texture, fudgy chocolate flavor and fresh fruit, but I don't feel nearly as bad when I go for seconds!
The trick to this chia pudding? The dates! They give the pudding a bit of natural sweetness to balance out the unsweetened cocoa and coconut milk.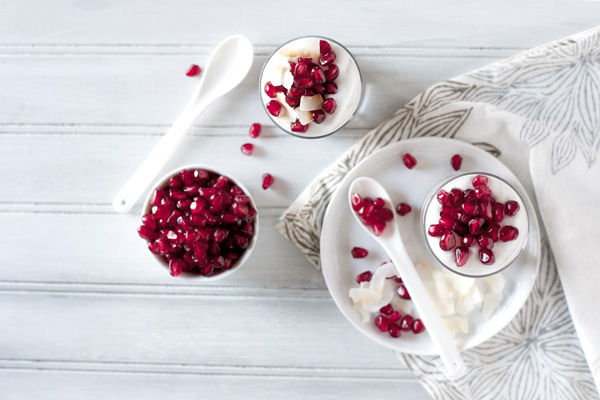 There are two tasty options with this recipe, you can easily blend all the chia seeds with the coconut and cocoa powder for a super smooth pudding. Or, you can stir some of the chia seeds in at the end, like I do to give the pudding a bit of texture. Either way, layered up with the coconut cream and fresh fruit, it's a rich, chocolatey dessert that you'll love to love.
Any leftovers will last up to a week in the fridge, but since you can even serve this for breakfast, a quick snack or dessert it probably won't be around that long. Enjoy!
Print
Chocolate Chia Pudding Parfait
This quick chocolate chia pudding is smooth, naturally sweet and delicious; the perfect healthy treat or afternoon snack.
Author:

Kristen Olson

Prep Time:

5 mins

Cook Time:

10 mins

Total Time:

15 minutes

Yield:

6 Servings
Ingredients
Chocolate Chia Pudding
1 can (14 ounces) unsweetened coconut milk
3 to 5 Medjool dates, pitted
3 tablespoons unsweetened cocoa powder
3 tablespoons chia seeds
1 vanilla bean, split, seeds scraped
Pinch of ground cinnamon
Fresh pomegranate seeds, raspberries and toasted coconut, if desired
Coconut Cream
1 can (14 ounces) unsweetened coconut cream or full fat coconut milk, chilled
Sweetener, if desired (powdered sugar, honey or maple syrup)
Instructions
In a blender mix coconut milk, dates, cocoa powder, 1 tablespoon of the chia seeds, seeds from the vanilla bean, cinnamon and salt. Blend on high until smooth. Stir in remaining 2 tablespoons chia seeds, let stand 10 minutes for chia seeds to bloom. Serve immediately or refrigerate until ready to eat.
To make the coconut cream, chill the can (overnight if possible). Remove the lid from the can without tipping or shaking. Scoop out the thickened cream from the top and set the liquid part aside for another use. In a chilled bowl, use a hand mixer to beat the cream on high speed for 30 seconds to 1 minutes or until light and fluffy. Add sweetener, if desired and mix until well blended.
Layer the chia pudding, fruit and coconut cream and serve.
Nutrition
Serving Size:

1 Serving

Calories:

155

Sugar:

4g

Sodium:

10mg

Fat:

13g

Saturated Fat:

8g

Unsaturated Fat:

1g

Carbohydrates:

9g

Fiber:

4g

Protein:

3g

Cholesterol:

0mg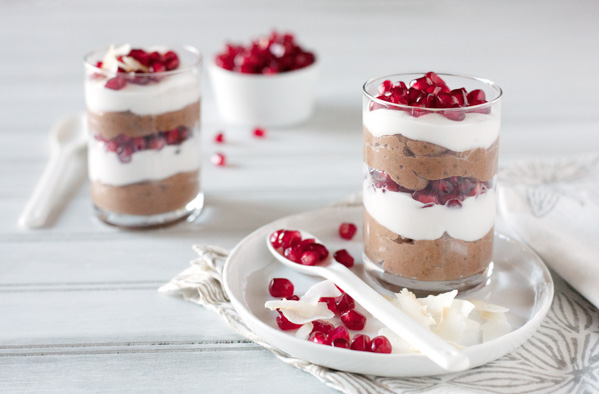 What's your favorite way to enjoy chia seeds?
Here are a few more ideas to use chia seeds in desserts…
Pistachio Chia Pudding from Autumn Makes and Does
Chia Pudding with Plums from Spoon Fork Bacon
Whipped Double Chocolate Chip Chia Pudding from How Sweet It Is
More breakfast than dessert but still delicious, check out this Banana Almond Chia Pudding…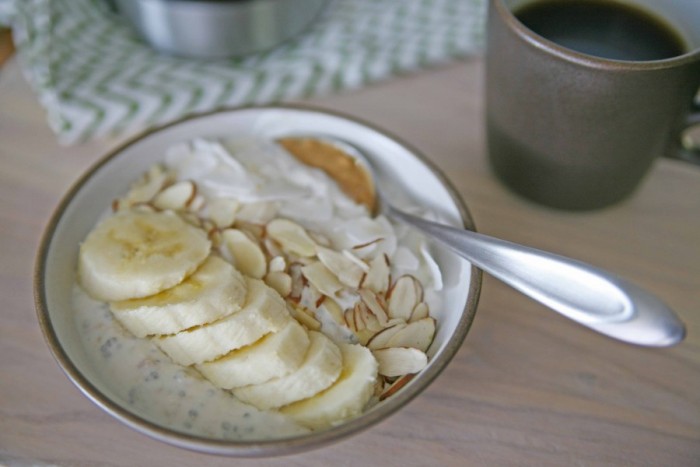 ###
Like what you see – or have a question, feedback, or recipe idea to share? Join the convo by commenting below and be sure to subscribe to B&H emails so you don't miss a thing! If you make this, share it! Tag your photo with #BourbonandHoney on Instagram.