It's wedding season and we have one on the books this weekend! I can't wait to celebrate with my dear friends and share some tears of joy, build wonderful memories and toast to the future. The bride-to-be will be serving her guests some fresh summer salads after the ceremony and it got me thinking. What is my go to summer salad for a crowd? If you've been following along with B&H for a while, you know I have some pretty strong opinions on what makes up the perfect salad. It has to be fresh, flavorful and packed with texture and enough goodies to keep me full for a few hours.
All that said, I have a lot of favorite salads. They're usually just a delightful mixture of whatever I have on hand and that is exactly what this colorful wheat berry salad is. A little bit of this, a little bit of that, sure throw that in too. Add a drizzle of that thing over there and POOF you've got yourself a delicious salad.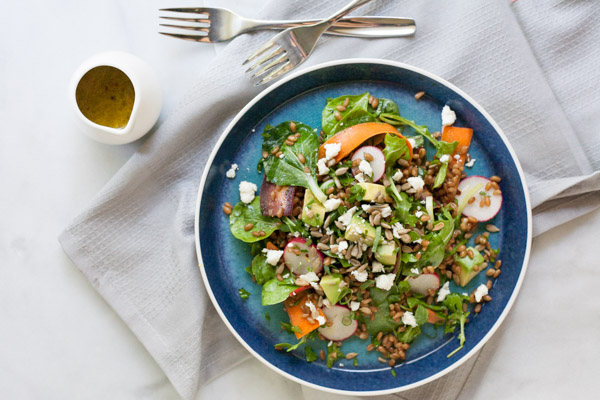 This fresh grain and greens salad has a just the right balance of texture. The super chewy wheat berries, the crunch of the radish, the tender greens and the soft avocado, all the textures that you need to make an awesome salad. Swap in your favorite seasonal produce for a dish that will stick with you all summer long.
The dressing is a simple favorite too. It has a bright citrus-garlicky flavor with a bit of sweetness from the honey and a touch of spice from the red pepper flakes that will keep this simple dressing interesting and flavorful.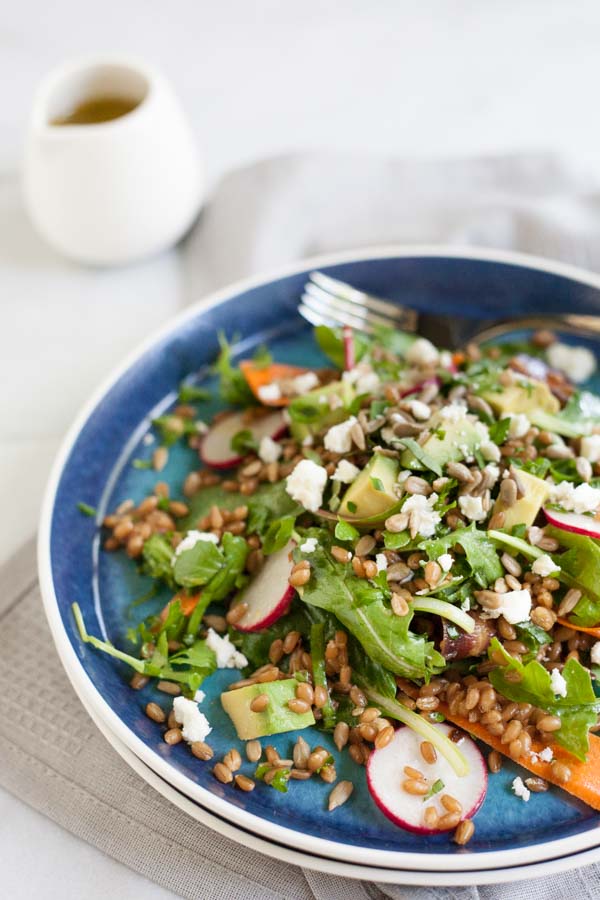 Print
Carrot, Radish and Wheat Berry Salad with Lemon Vinaigrette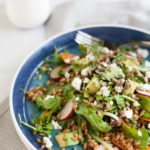 Fresh, citrusy and packed with veggies, this grain salad is the perfect light yet filling summer salad.
Author:

Kristen Olson

Prep Time:

20 mins

Cook Time:

1 hour

Total Time:

1 hour 20 minutes

Yield:

4 Servings
Ingredients
Lemon Vinaigrette
1/3 cup olive oil
2 tablespoons fresh lemon juice
1 teaspoon fresh lemon zest
2 garlic cloves, finely chopped
2 teaspoons honey
1/4 teaspoon red pepper flakes
Pinch of salt and pepper to taste
Carrot, Radish and Wheat Berry Salad
1 cup uncooked hard red wheat berries, rinsed
3 carrots, peeled and sliced into thin strips
4 radishes, trimmed and thinly sliced
4 cups hearty baby greens (kale, spinach, arugula)
1/4 cup parsley, chopped
3 tablespoons thinly sliced fresh basil leaves
2 green onions, thinly sliced
1 large avocado, pitted, chopped
1/4 cup crumbled feta cheese
3 tablespoons sunflower seeds
Instructions
In a small bowl, whisk together the olive oil, lemon juice, lemon zest, garlic, honey, red pepper flakes, salt and pepper until well blended. Refrigerate until ready to serve.
Cook wheat berries according to package directions, cool to room temperature. In a large bowl, toss together with a tablespoon or two of the dressing, carrots, radishes, parsley and basil until well mixed. Garnish with avocado, feta and sunflower seeds and serve with additional dressing on the side.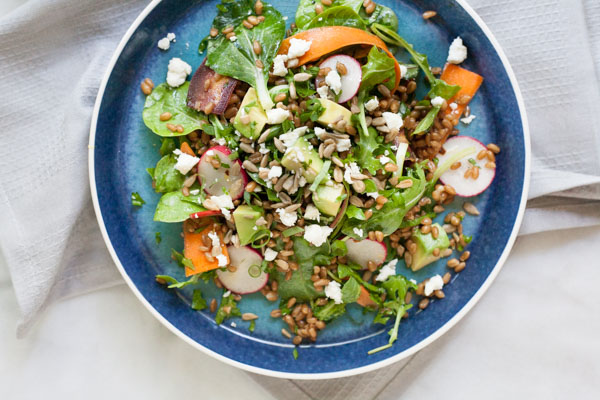 What's in your perfect salad bowl?
Looking for another delicious salad? Check these out…
Crunchy Taco Kale Salad from How Sweet It Is
Roasted Sweet Potato and Farro Salad from Cookie and Kate
Mediterranean Quinoa Salad from Foodie Crush
Or, try my Smoked Salmon Farro Salad Bowl…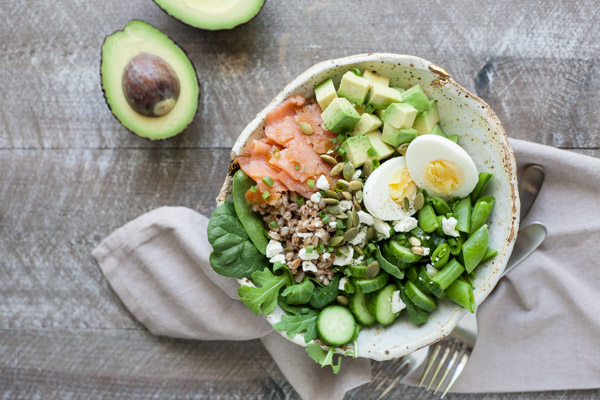 ###
Like what you see – or have a question, feedback, or recipe idea to share? Join the convo by commenting below and be sure to subscribe to B&H emails so you don't miss a thing! If you make this, share it! Tag your photo with #BourbonandHoney on Instagram.