Eek! Summer is almost over and I'm in total denial! I'm still stuffing my face with watermelon, snap peas and fresh berries hoping that summer will stick around for a few more months.
Last week at the farmers market, while trying to absorb every last moment of summer, I couldn't help but scoop up a few handfuls of locally grown rainbow carrots. Both kohlrabi and carrots are crunchy and slightly sweet so they're perfect when paired with a fresh and slightly spicy dressing.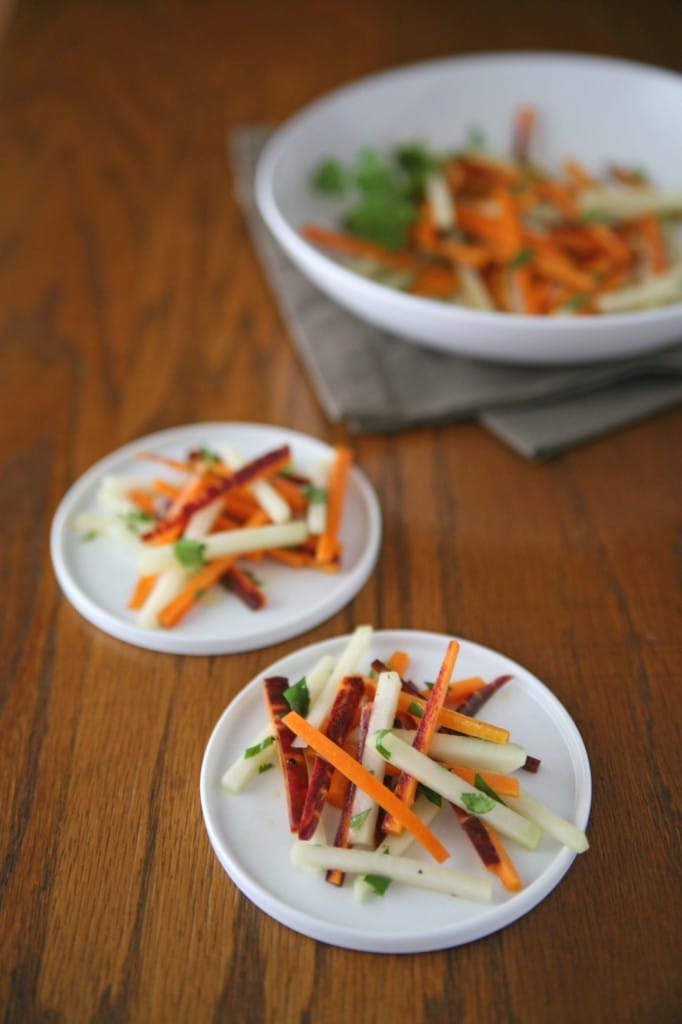 Harissa can be pretty spicy, so add just a little at a time or if you can handle the heat, add more for an extra kick.
Carrot and Kohlrabi Salad with Harissa
Prep Time: 15 minutes
Start to Finish: 15 minutes
2 
tablespoons olive oil
1 tablespoon fresh lemon juice
1 teaspoon honey
1 
teaspoon harissa paste
1
 kohlrabi, peeled and cut into match size sticks
2 medium 
carrots, peeled and cut into match size sticks
2 tablespoons chopped fresh cilantro
1 tablespoon sliced green onions
In a large bowl, whisk together olive oil, lemon juice, honey and harissa. Add kohlrabi, carrots, cilantro and green onions; toss to coat.
Makes: 4 Servings
More fresh veggie salad recipes to try…
Spicy Kohlrabi Noodles from Love and Lemons
Moroccan Carrot Salad from Herbivoracious
Kohlrabi and Green Apple Noodle Arugula Salad from Inspiralized