From appetizers and veggies to burgers, steaks and sweets this collection of summer grilling recipes are for the dog days of summer!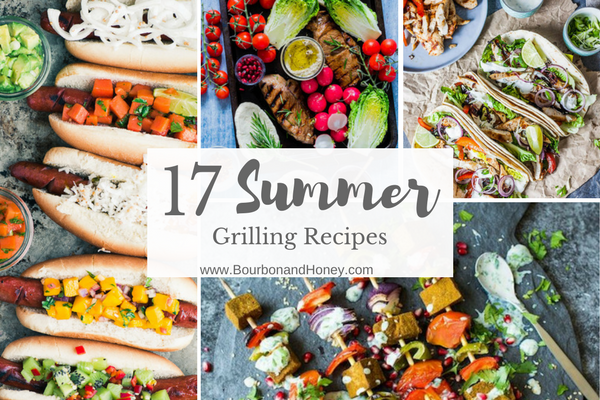 This month, I've been tempted to say that Summer is my favorite season. I've always claimed that I don't have a favorite, I love the changing of the seasons and just when I'm getting bored with one, we're moving on to the next one. But, we've had some seriously gorgeous weather recently that has me rooting for summer weather all-year long!
Our summer so far has been filled with so many fun adventures outside from scuba diving in the lakes in Northern Minnesota, outdoor dinner parties, weekend road trips, backyard BBQ's, camping at the lake and so much more. Yeah, right now, summer absolutely is my favorite season! Just be sure to ask again in the fall, I might change my mind…

One of the best things about summer is all the grilled food! I'm a lazy grill-er and if I have to shovel a path to get to my grill in the middle of winter, I'm probably just going to fire up the oven instead. So when the weather warms up and I don't want to heat up the kitchen, my trusty grill gets a workout! We love to grill everything from rounds of cheese and all sorts of meats to something sweet for dessert. These tasty recipes might give you an idea for your next BBQ or Tuesday night dinner, just be sure to pair it with a glass of wine or whiskey for the perfect meal!
17 Favorite Summer Grilling Recipes
Appetizers:
Mains and Sides:
Sweets: 
What's your favorite thing to make on the grill?
###
Like what you see – or have a question, feedback, or recipe idea to share? Join the convo by commenting below and be sure to subscribe to B&H emails so you don't miss a thing! If you make this, share it! Tag your photo with #BourbonandHoney on Instagram.
Please note that some of the links on this page are affiliate links. I only link to products I trust and recommend. Thank you for supporting B&H.