This is a fun twist on an old classic,  a super simple, crowd pleasing salad that you will want to make again and again!
It's a pretzel-y version of an old classic; a panzanella salad. Panzanella salads are a very resourceful way to use up any stale or crusty bread. It's a great summer or early fall salad to use up those tomatoes and peppers that are just begging to be eaten.
The pretzel bread gives a slightly salty, savory crunch. And, if you let it stand in the fridge for at least 30 minutes the bread will soak up some of the dressing for a perfect make-ahead salad.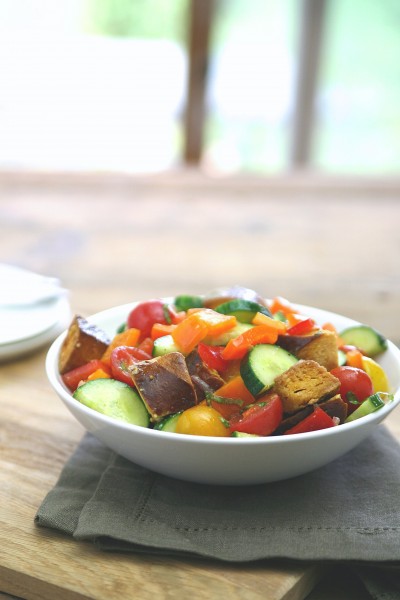 Pretzel Panzanella Salad
Prep:15 min
Total: 1 hour 15 minutes
Salad
1 soft pretzel stick (4.5 oz) cut into 1-inch cubes (about 3 cups)
2 tablespoons olive oil
1/2 teaspoon coarse kosher salt
1 cup cherry tomatoes, halved
1 hothouse cucumber, halved lengthwise and sliced 1/2-inch thick
1 orange bell pepper, seeded and cut into 1-inch cubes
1 red bell pepper, seeded and cut into 1-inch cubes
1/2 red onion, cut in half and thinly sliced
5 large basil leaves, thinly sliced
Dressing
1/2 teaspoon finely chopped garlic
1/4 teaspoon Dijon mustard
1 tablespoon white wine vinegar
1/4 cup olive oil
1/4 teaspoon coarse kosher salt
Pinch of sugar
Pinch freshly ground black pepper
Heat oven to 350°F. Cut bread into 3/4- to 1-inch cubes; in a medium bowl, toss bread, 2 tablespoons olive oil and 1/2 teaspoon salt until bread is well coated. In an ungreased baking pan, spread bread cubes. Bake 15 to 20 minutes, stirring and turning occasionally, until golden browned and crispy. Remove from cookie sheet to plate or cooling rack; set aside to cool.
Meanwhile, in a small bowl, whisk all the dressing ingredients together.
In a large bowl, mix the tomatoes, cucumber, bell peppers, onion and basil. Add the pretzel croutons and toss with the dressing. Refrigerate at least 30 minutes or up to 6 hours for the bread to slightly soften.
Makes: 4 servings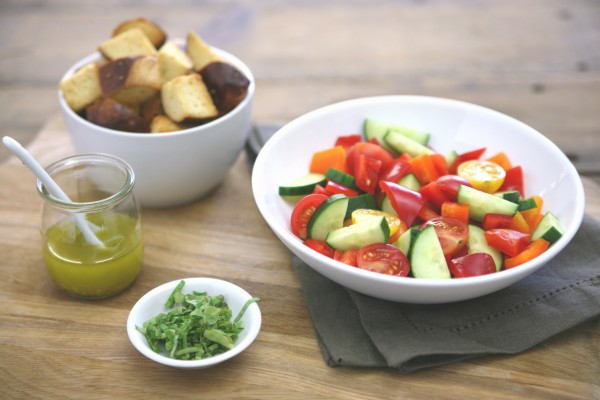 A few fresh veggie salads…
Favorite Panzanella Salad from Licking the Plate
A Good Winter Salad from 101 Cookbooks
Spinach Salad with Peaches, Gorgonzola and Almonds from  Aggie's Kitchen