I don't think I could ever be a vegetarian. We don't eat a ton of meat at our house, but you really can't beat a good burger, crispy bacon or marbled steak.
My sister on the other hand has been a vegetarian since we were young, meaning there was plenty of tofu, fake bacon and weird 'chic'n nuggets' in our house. Tofu is such an odd thing, it doesn't have much flavor, texture or color, but can be flavored to taste like pretty much anything you pair it with. And for that reason, I love it!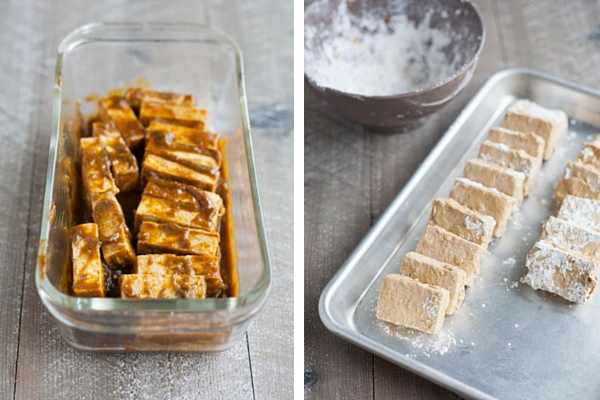 This crispy marinated tofu may be vegetarian, but it's delicious enough to satisfy even the most hard-core carnivore.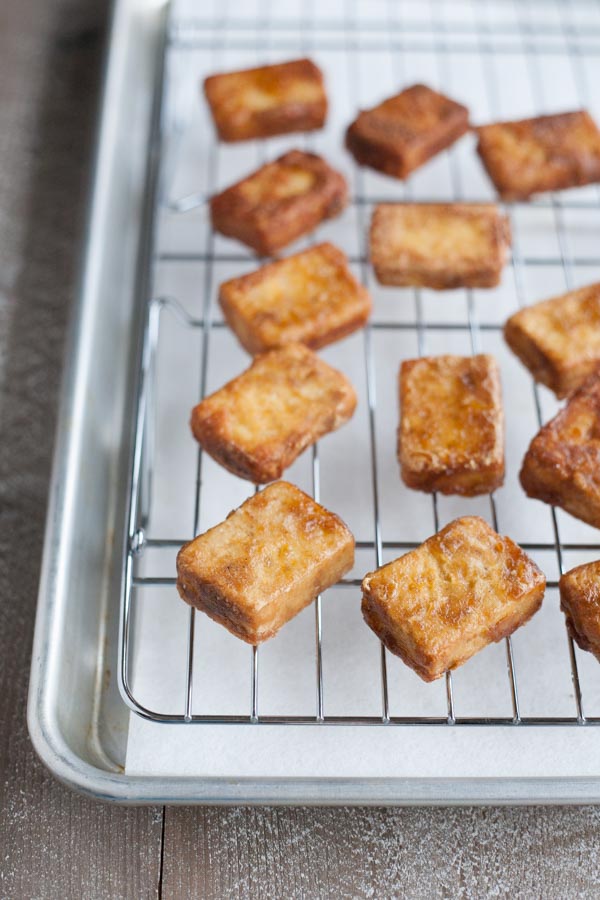 Plan ahead and let the tofu marinate overnight for a quick dinner and super flavorful tofu. Serve these golden little bites with ramen, in a stir fry or piled up with veggies in a rice bowl!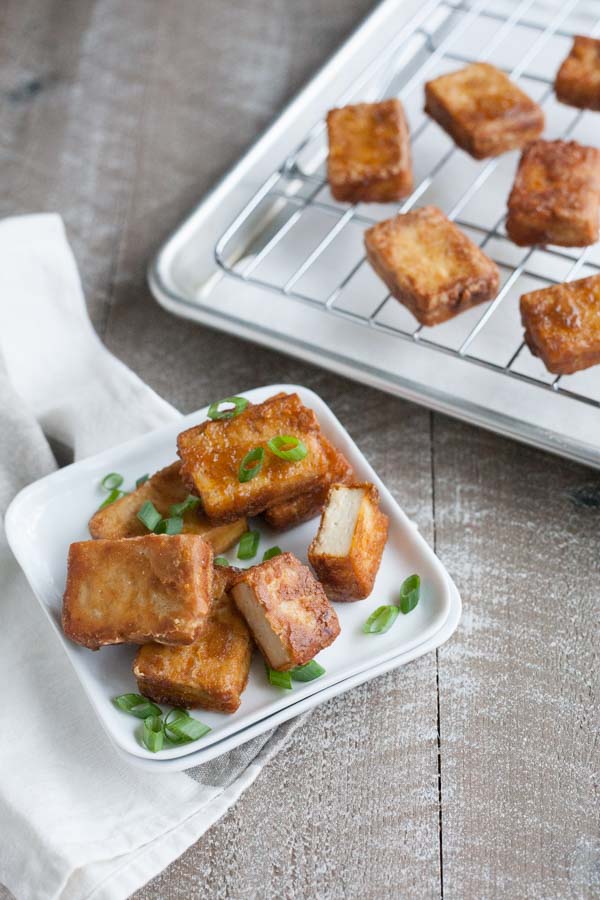 Print
Crispy Marinated Tofu
Spicy and savory, this crispy tofu is a flavorful and delicious way to serve a vegetarian favorite.
Author:
Prep Time:

20 mins

Cook Time:

20 mins

Total Time:

40 minutes

Yield:

6 Servings
Ingredients
1 package (14 ounces) extra-firm tofu, drained
6 cloves garlic, coarsely chopped
1/4 cup soy sauce
1/4 cup chopped fresh cilantro
3 tablespoons sambal oelek (spicy chili sauce)
1 tablespoon fresh lime juice
1 teaspoon chopped fresh ginger
1/2 cup cornstarch
3 to 4 tablespoons vegetable oil
Instructions
Place the tofu brick on a dinner plate layered with paper towels; top with several more paper towels and another dinner plate. Weigh down the top plate with a heavy skillet to press out any additional liquid. Allow the liquid to drain at least 30 minutes or refrigerate and press overnight.
To a blender, add the garlic, soy sauce, cilantro, chili sauce, lime juice and ginger and blend until smooth. Cut the pressed tofu in half lengthwise, then cut crosswise in 1/2 inch slices. Place the tofu in a baking dish, top with marinade and toss to coat. Refrigerate at least 2 hours or up to overnight.
Place cornstarch in a medium bowl. Working in batches, remove tofu from marinade (but, don't scrape it off) and toss in cornstarch; shake off excess cornstarch.
Add the oil to a medium skillet over medium-high heat. Add the tofu in a single layer working in batches if needed. The tofu will sizzle and stick to the pan as it begins to cook, but as it browns it will release from the pan. Turn and continue to pan fry until browned and crispy on all sides.
Transfer the browned tofu to a cooling rack and serve warm.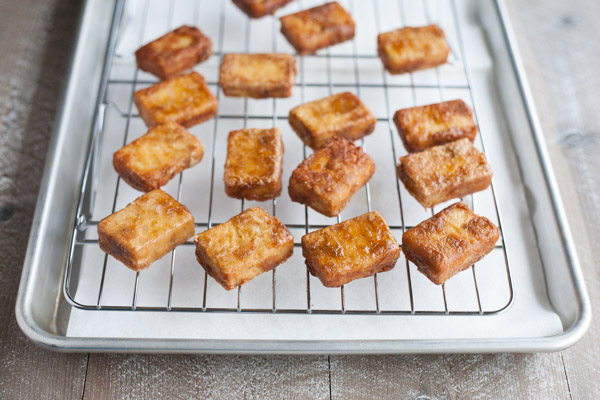 What do you think about tofu? Love it or hate it?
If you're a fan… check these out!
Seared Tofu Banh Mi Sandwiches from Love and Lemons
Chipotle Tofu Chilaquiles from Minimalist Baker
Tofu and Mushroom Miso Soup from Steamy Kitchen
###
Like what you see – or have a question, feedback, or recipe idea to share? Join the convo by commenting below and be sure to subscribe to B&H emails so you don't miss a thing! If you make this, share it! Tag your photo with #BourbonandHoney on Instagram.